The "Villa Rondot" is one of the typical local villas we call  "Une Arcachonaise". Built in the 1870's, it bears the name of our great-great-uncle Rondot who came from the northeast of France. That's how he started to write the story of this house. Since then, the house has undergone many transformations. It was a brick building, with moldings, fireplaces and high ceilings. We were not able to save it all but we kept its soul.
The villa is located in the city center, within walking distance to the market place, the beaches, etc.. and is divided into three units: apartment EST, apartment OUEST, and the PATIO.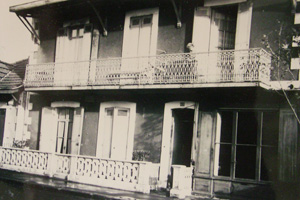 Apartments EST and OUEST are split levels on the second and third floors.
They measure approximately 70 square meters (750 square feet). They are very similar  except  for the floor plan that differs slightly. They each have two bedrooms and the one upstairs has a sloped ceiling. They also have one bathroom with shower,  a  separate toilet,  a kitchen, a dining room, a living room with TV and a balcony facing south. They can accommodate up to 6 persons with the living room sofa bed.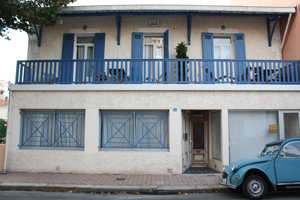 The  Patio is entirely  our creation. We wanted an area that would be  spacious, quiet and eminently livable. It has 5 bedrooms, 3  bathrooms with showers, a kitchen overlooking the patio where up to 10 can sit for meals  and a living room with TV. This apartment sleeps up to 10 persons. We hope we  fulfilled our deam.